DIEP Flap vs Implant Reconstruction
Patient education is key to the success of breast reconstruction surgery. Dr. Oren Lerman will explain DIEP flap vs implant reconstruction during a consultation at his Manhattan, NY, practice to help you decide which approach is best for your needs. As a board-certified plastic surgeon and director of breast reconstruction at Lenox Hill Hospital, Dr. Lerman is uniquely qualified to help you decide whether transplanted tissue or breast implants can provide you with the greatest satisfaction.
DIEP Flap Reconstruction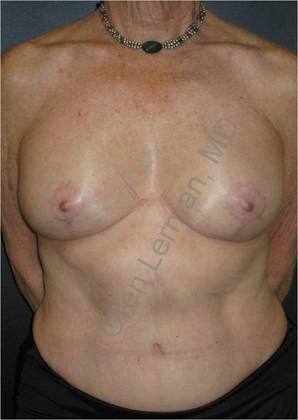 Reconstruction is a process of removing skin and fat tissue from the lower abdomen and grafting it to the chest to recreate the breast mound. This approach provides the most realistic results because it incorporates your own living tissue.
Dr. Lerman has extensive experience in microvascular surgery, a technique that allows him to completely remove the donor tissue and connect it to blood vessels in the chest. This technique is far less invasive than traditional methods of tissue grafting in which the blood supply must remain intact. As a result, microvascular surgery allows patients to experience a faster recovery.
Because the DIEP flap technique uses your own tissue, there is no risk of rejection, and the tissue will age with you.
Implant Reconstruction
Implant reconstruction is a process of using saline or silicone breast implants to recreate the breast mound. Implant reconstruction requires placing the implant below the pectoral muscle. This option may require placement of a tissue expander to create room for the implant over the course of several months. For the right candidates, Dr. Lerman can perform direct-to-implant reconstruction immediately following mastectomy, without the need for an expander. This involves using AlloDerm® (a biological mesh that acts as an internal bra) to support and protect the implant.
Which Type of Reconstruction is Right for Me?
You and Dr. Lerman will discuss several aspects of both procedures to help you decide which approach is the best match for your goals:
Look and Feel
Many women choose to undergo breast reconstruction using the DIEP flap technique because it provides more realistic results, while others choose implant reconstruction because if provides more control over the size, shape, and look of the breast.
Longevity
Simply put, DIEP flap reconstruction provides longer-lasting results. Because the DIEP flap technique uses your own tissue, there is no risk of rejection, and the tissue will age with you. Breast implants, on the other hand, will eventually require revision. Meanwhile, implants can rupture or develop capsular contracture, a condition in which scar tissue tightens around the implant, distorting its shape. Often, patients who initially undergo implant reconstruction will choose to undergo DIEP flap reconstruction when revision becomes necessary.
Scarring
DIEP flap reconstruction will result in more scarring than implant reconstruction. While both techniques inevitably result in some scarring on the breasts, DIEP flap reconstruction will also result in scarring on the abdomen at the site where tissue was harvested. However, the techniques Dr. Lerman has refined over the course of his career help him to minimize scarring. Over time, and with proper care, these scars can fade significantly.
Begin Planning Your Procedure
Undergoing breast reconstruction by an experienced microvascular surgeon provides women with a greater range of treatment options than ever before. Dr. Lerman will take time to thoroughly explain your options so you can achieve precisely the results you desire. To learn more about whether DIEP flap or implant reconstruction is best for your needs, please contact us today and schedule a consultation. In the meantime, we invite you to review our FAQ page.