MASTECTOMY TATTOOS - Our Patient Diane's amazing story
Diane de Jesús, 35, London, is owner of Piece O Cake Nutrition, a nutrition communications consulting and advisor for Personal Ink (P.ink) – an organisation to connect breast cancer survivors with tattoo artists. In this interview, Diane shares her own experience of breast cancer and how getting a tattoo made her feel about her mastectomy.
Photo of Diane by Lydia Perez DeJesus @momdetresshoots
Can you tell us about your cancer diagnosis and treatment. At 29 years old, I was diagnosed with DCIS, ductal carcinoma in situ, which is the earliest stage of breast cancer. I was told that while my life was not in immediate danger, the cancerous cells would have to be removed. Thus far, the medical community is unable to determine which DCIS cells will become invasive cancer and when. This combined with my very young age meant that we couldn't just take a "watch and wait" approach. Also, my disease was so extensive, filling nearly my entire left breast. This meant I would have to have a mastectomy to remove the entire breast.
How did you feel about your body after the mastectomy? I was thrilled to have such a good prognosis and to have such great doctors who provided me with excellent mastectomy and (silicone implant) reconstruction results. After recovery, I was grateful to very quickly dive back into my normal life: working by day, going to school at night (working toward my registered dietitian certification) and exercising regularly. I thought I was adjusting just fine. It wasn't actually until after I got my tattoo that I realised how much I had been through emotionally and how I had been avoiding looking at my chest in the mirror. I had always done everything in my power to care for my health and my body had always reflected that. Suddenly, my body had betrayed me.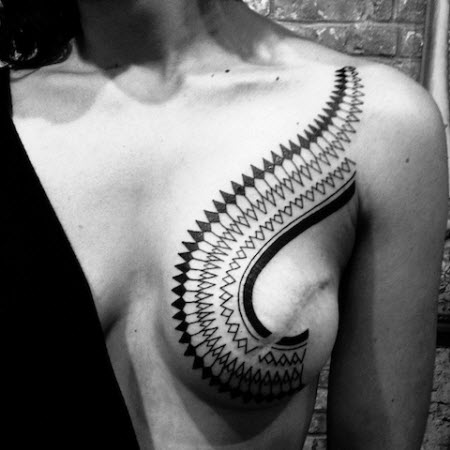 By Roxx, owner of 2 Spirit Tattoo, Los Angeles
Did you consider other options before deciding to get tattooed? No. I knew that I wanted to get a tattoo very early on, possibly even before having my mastectomy. While I researched what to expect from my surgeries and recovery, I came across stories and photos of women who were post-mastectomy and had chosen to cover their scars with tattoos. I wasn't so much drawn to the idea of covering my own scar but of finding some way to encapsulate and honour all that my husband and I had been through and also to put my own mark, of my own choosing, on my body.
What made you decide to get that tattoo design? In some mastectomy cases, the nipple can be preserved but in most, the nipple and areola are removed with the rest of the breast tissue. This was the case for me. While I was discussing reconstruction options with my plastic surgeon, I was offered the option of nipple reconstruction many times. The idea of having a fake nipple constructed from the skin on my chest—a nipple that would never feel anything, respond to touch or temperature, or release breastmilk—just never resonated with me. Neither did the idea of having the image of a nipple and areola (even a fancy 3D one) tattooed onto my chest. What did resonate with me was something that Geralyn Lucas did, and wrote about, in her memoir of her experience with breast cancer. Geralyn also had a mastectomy with implant reconstruction but no nipple reconstruction. Instead, Geralyn had a tattoo placed on her chest, near her scar. As soon as I read about this, I knew it was what I needed to do and as I came across images of other women who'd done the same, I was motivated to find a way to make it happen. Of course, since I'd never been tattooed before, I didn't know the first thing about selecting an artist, studio or design. I also didn't realise the cost of tattoos.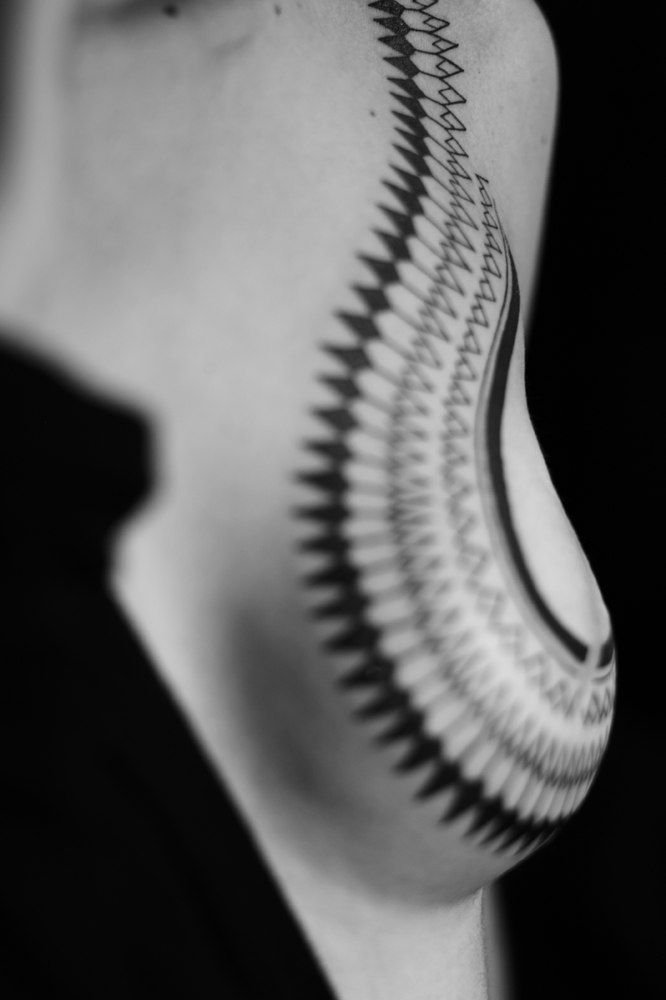 Photo by Gigi Stoll, Gigi Stoll Photography, New York
Did it transform what you thought about your body? Getting my mastectomy tattoo helped me to close the door on that chapter and finally move on. I was tattooed in October of 2013, three years to the day since I was told that cancerous cells had been found in my breast. After getting the tattoo, I could look in the mirror without averting my eyes from the sight of my chest. I found myself feeling more confident. I was myself again.
How do you feel about it now? I continue to be so grateful for my tattoo and for the woman who tattooed me: Roxx, owner of 2Spirit Tattoo in L.A. I also love that this tattoo continues to provide me with the opportunity to discuss breast cancer and reconstruction options with other breast cancer survivors and their support networks.
What advice would you give to other women who have breast cancer? Every single breast cancer experience is unique. It is overwhelming to receive a cancer diagnosis of any kind but I think that every person diagnosed can benefit from finding a way to listen to her (or his) body and making the decisions that are best for her/him. Also, it is unfortunate, but at some point you may find you really must be your own advocate. You will work with so many different individuals and sectors of the healthcare community who may have the best intentions of providing you with the best advice but this advice may not always be the advice that is best for you. This is easier done with a good support system. Having a spouse, family member or friend to come along to appointments or help with research, paperwork, phone calls, etc. is invaluable.
Can you give us some background about P.ink day… what it is and how others can get involved. P.ink (Personal Ink) is an organisation dedicated to educating breast cancer survivors about mastectomy tattoos as an alternative healing option, and connecting survivors with experienced tattoo artists who can help. One way we do this is through P.ink Day, an annual all-volunteer effort to connect tattoo artists and survivors for a day of healing with tattoos. What started with just 10 artists and 10 survivors at Saved Tattoo in Brooklyn, New York, for our first P.ink Day in 2013 has grown into a true grassroots movement, with 46 artists, 48 survivors and hundreds of volunteers across 13 locations in North America, as of October 2015. In total, we've facilitated nearly 100 incredible mastectomy tattoos via P.ink Day. P.ink Day occurs every 10 October and 2016 will be P.ink Day's fourth year.
Written by Alice Snape Posted in Fashion and beauty, Health and fitness, News, Photo inspiration, Tattoos. Reposted from THI-INK Blog